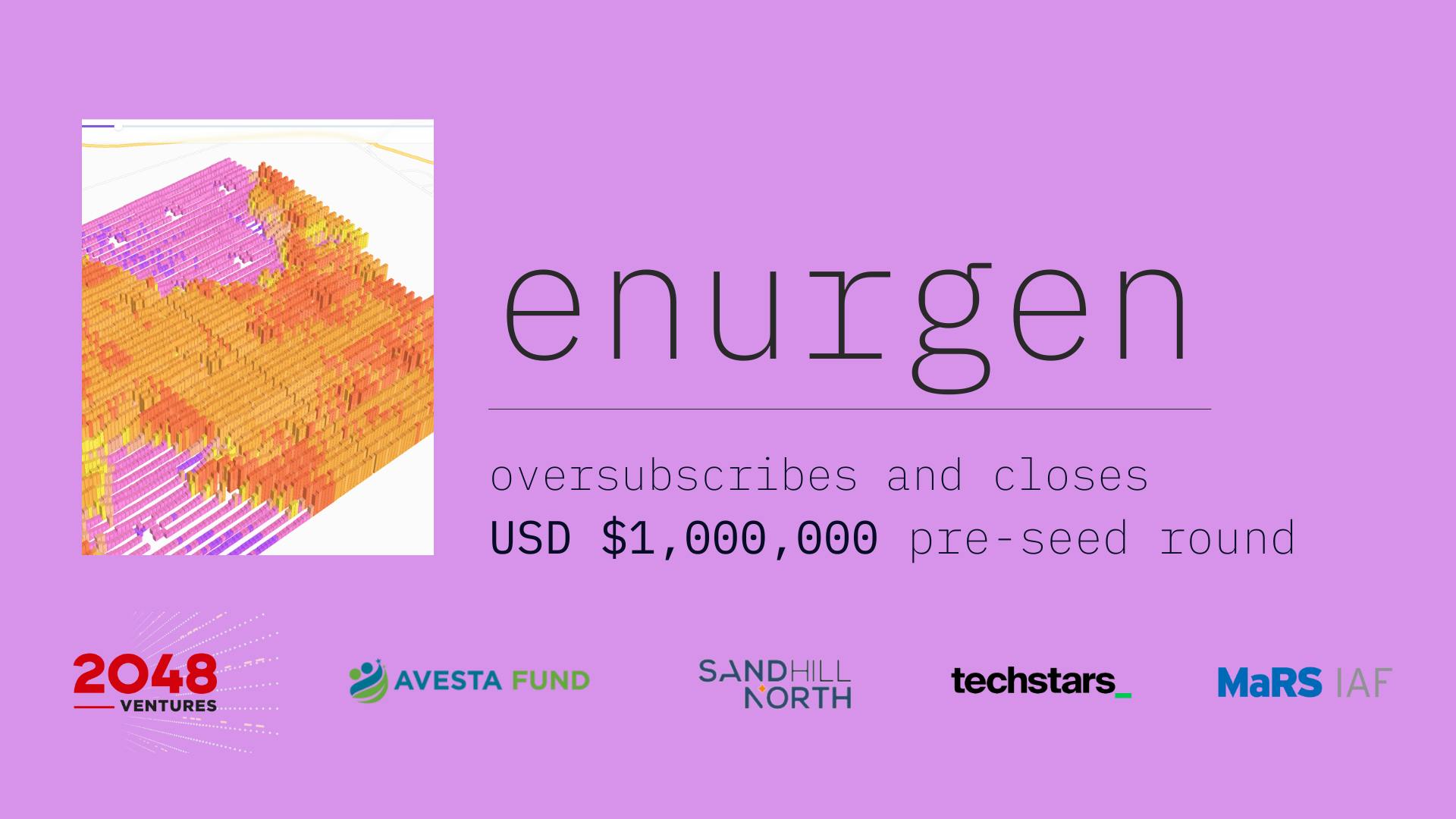 Solar startup Enurgen oversubscribes and closes USD $1M pre-seed round
News
Published: 11/8/2023
Updated: 11/8/2023
2 minute read
---
OTTAWA, November 8, 2023—Enurgen, a deep, clean-tech solar software startup, today announced it has raised over USD $1M in pre-seed funding. Led by early stage venture capital firm 2048 Ventures, with participation from MaRS IAF, Sand Hill North, Techstars, and Avesta Fund, the funding will fuel further development of its software solution DUET (DUal-sided Energy Tracer).
Solar power is leading the way in the world's clean energy transition. Ninety per cent of new utility-scale solar plants are utilizing bifacial solar technology–where light illuminating both sides of the solar panel generates energy–for increased energy yields. 
Enurgen's advanced modelling capabilities can represent bifacial systems within one per cent agreement to help mitigate the current 7-13 per cent underperformance of the average utility-scale plant, providing a clear vision and reduced investment risk for asset owners. Enurgen's detailed models can be connected to physical plants to form digital twins. With continuous performance benchmarking, digital twins can increase energy production yields and help solar asset owners grow their margins over the 25+ year lifetime of solar plants. 
"With solar market competition increasing, power purchase prices are falling, which is resulting in lower margins for asset owners. The rise of bifacial and uncertainty in rear-side irradiance has also led to performance risk. This highlights the need for realistic modelling to ensure that expected productions are realized," said Kibby Pollak, CEO and Co-Founder of Enurgen. "Enurgen's DUET engine solves this performance uncertainty from the design & planning phase through to operations & maintenance." 
"Enurgen's novel solar energy modelling engine enables its software platform to provide immediate value to utility-scale solar asset owners, operators and investors to de-risk performance expectations and drive higher energy yields.  We are excited to partner with the Enurgen team to support their growth," said Emil Savov, Managing Director of MaRS IAF.
Enurgen provides end-to-end value for these assets, from design & planning, through to asset and portfolio management. The company is in the process of completing validation projects with energy giants to prove the value of the first solar digital twins at scale. 

About Enurgen
Enurgen is a deep, clean-tech software solution composed of highly specialized modelling engines with over seven years of R&D. Their core DUET engine has been independently tested along with a number of other solutions. The resulting report identifies Enurgen as a global leader in solar asset model representations of new and existing utility-scale bifacial photovoltaic (PV) systems. With their cloud based software, Enurgen will deliver a comprehensive solution for PV plant asset owners to assess geographic specific meteorology & interconnect power purchase feasibility, digital twin PV system design and modelling, model bankability, asset performance monitoring, and O&M dispatch automation.

Contacts:
Kibby Pollak, CEO & Co-Founder - kibby@enurgen.com - +1-613-858-5016
RJ Obhi - Head of Business Development & Marketing - rj@enurgen.com